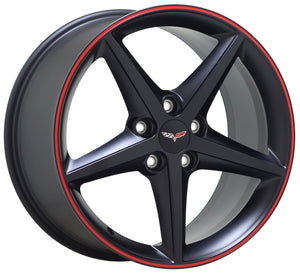 One (1) 19x10 Chevrolet Corvette C6 black "Red-Line" wheel

These are Factory OEM wheels.

Non-standard / Factory OEM Finish come with a 90-day warranty.

Came On:
2011-2013 C6 models

Fits:
Most C4, C5, C6, C7 models (message us w/fitment questions)

Set does NOT come with Center Caps. Please contact us if you wish to order Center Caps.